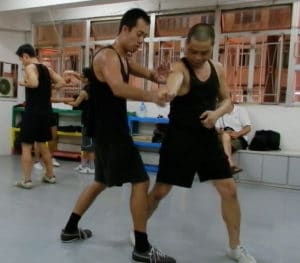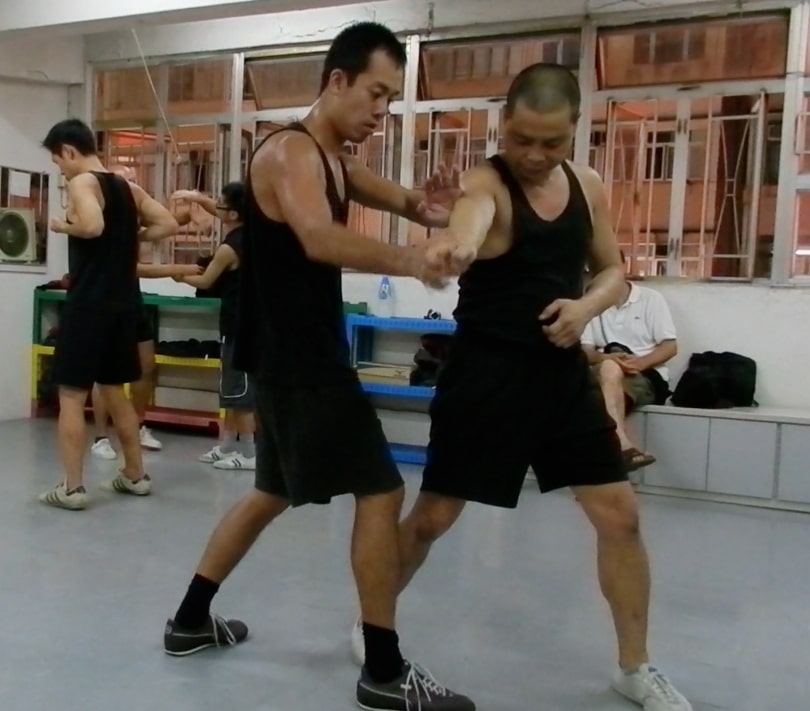 Training at Sifu NG Chun-hong's school is an experience I can't recommend enough to anyone interested in learning from, in my opinion, the very best in Hong Kong. He has studied with JIU Wan, LOK Yiu, and WONG Sheung Leung. Sifu NG's own interpretation of the art of Wing Chun is consequently extremely rich and unique.
Sifu NG's Wing Chun school
His school is located in the bustling commercial neighbourhood of Mong Kok, Kowloon. In the stifling August heat I was on my way to my first evening class. After scaling two floors, a small sign for Foshan Wing Chun was the only indication that I was in the right place. I heard the familiar sounds of trainers squeaking on the floor and the clacking of the Muk Yan Jong. Entering Sifu NG's school for the first time was like stepping into a truly old-school authentic kwoon.
My initial meeting with Sifu NG
Sifu NG was sitting at his desk with a cup of tea. He watched on as his students ran through their forms and began pair-work. He invited me to sit with him for a while. I explained to him the reasons for my visit, whilst we watched his students at work. He came across as a good-humoured, friendly man but you could sense in him an underlying intensity. He then asked me to run through some forms and individual drills so he could assess my level. The look in his eye made it immediately obvious we had work to do!
Sifu NG spent some time with me, helping me to analyse some of the finer details in my Wing Chun foundations. I would need to refine these in order to better my structure and improve my technique. Later as I began working with some of his students, the issues that Sifu had pointed out to me really began to show themselves when pressure tested.
My first impressions of the kwoon
The atmosphere in the kwoon was fairly relaxed, although the students were not there to mess around. They were totally focused on their training. Pair-work was collaborative and both parties progressed freely and constructively.
This style was somewhat different to what I was used to in general from students in the west. Here there is a tendency to end up battling each other during the drills. This means they generally missing the point of the exercise and develop poorly as a result. Due to these misinterpretations, bouts of Gaw Sau in the west tend to be reliant on speed and strength, as opposed to technique and structure. However, when Sifu NG's students practice Gaw Sau, they apply authentic techniques with perfect form, timing, and energy. For those who have seen some of their videos on YouTube, although this gives a hint of the way in which they express the art, it is really no substitute for practising with them and witnessing the real thing first hand.
Getting to work with drills and exercises
The group introduced me to drills and exercises in a very structured and methodical way. Some of these were familiar to me from my previous training, while others I was experiencing for the first time. Sifu NG created these drills so that his students steadily develop the qualities that they require to fully express their art. Newer students would be introduced to techniques by their Sihing or Sifu NG. They would then be required to repeat these until they felt they had a good understanding of them. At this point they would then try to use the technique on one of their Sidai until they were sure they could use the technique with ease. The true test would be if they could then use this technique effectively on their Sihing during Chi Sau and Gaw Sau. This would show that they truly owned the technique.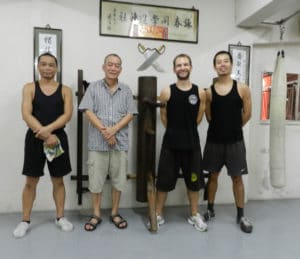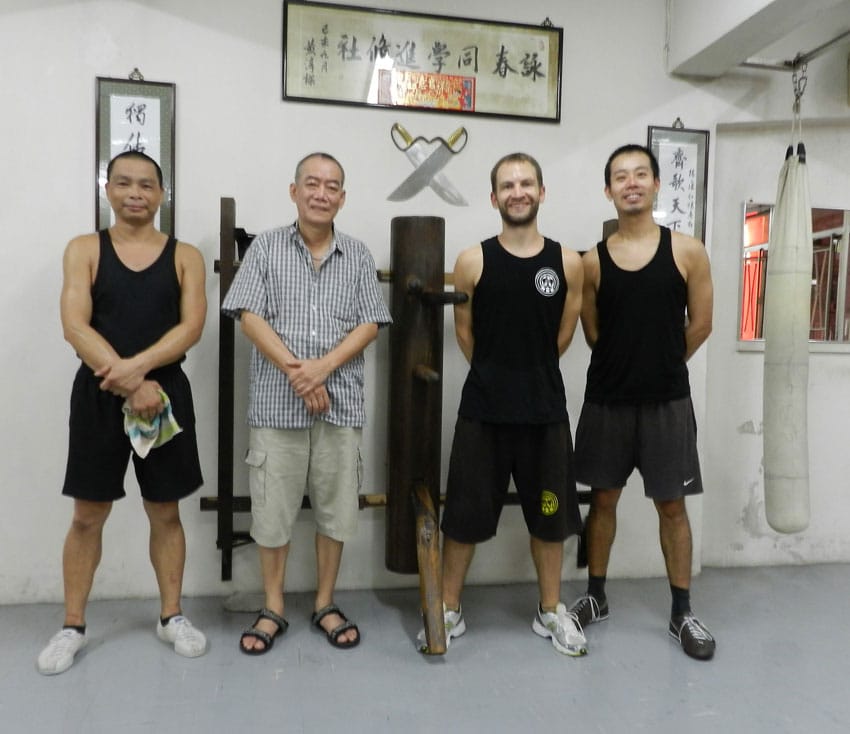 All of the people I worked with whilst at Sifu's school were very welcoming and helpful, correcting me wherever possible. I had the fortune to train with students of all levels. Each day I had the opportunity to cross hands with whoever was there. This is because Sifu felt this would give me a wide range of experience. Each student had their own personal style and attributes. However you could tell they had all been through the same rigorous formation process.
Conclusions
In my opinion, you can tell a good teacher from the standard of his students. It is this standard that really sets Sifu NG's school apart from the rest. Though not great in numbers during my visit, the students that Sifu NG has are all extremely good. Their ability is thanks to the watchful eye of their Sifu. His demand for the highest standards and focus on the finest details has meant that they have been constantly challenged to better their abilities. Indeed during the 2 weeks that I spent with them, I felt like I had developed my standard as a result of their drive for perfecting the foundations. From my experience I'm more aware of what I need to focus on now.

With this in mind I would like to thank Sifu NG for allowing me to visit his school. It was a fantastic experience. Thanks also to the students I was fortunate to train with including Alan, A'Kwan, A'Gum, Gerard and Fai, amongst others. I hope to return and visit you all soon.
Anyone considering a trip to Hong Kong and interested in training in an authentic Wing Chun school should get in contact with Sifu Ng through his website http://www.wingchun.hk.com/
Find out about our classes here.